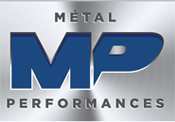 MÉTAL PERFORMANCES
Your partner for success in industry
SINCE
2005
Métal Performances made its mark as a company that is always attentive to the needs of its clients.
FROM OUR EXPERIENCE

The success of Métal Performances rests upon the esteem we have for our skilled workers, constantly maintaining their skills and knowledge base, and the experience and expertise of our teams.
FOR STRONGER PARTNERSHIPS
With over 40 employees on our payroll, Métal Performances is enjoying steady growth. Developing our business also strengthens our partnerships, by enabling us to offer the best solutions for our clients.
AND INNOVATION
Our engineering department has the necessary software to help you at each stage of your project. We have the organisation in place to provide you with innovative technical solutions that are both creative and effective.
PERFORMANCE
We have adopted a continual improvement approach based on Costs, Quality and Lead Times.[Coûts Qualité Délais] By constantly updating our machine stock, our production capacity and range of competences is also increased.
ABOUT OUR STRENGTHS

Métal Performances is your industrial partner of choice for boilermaking, assembly, piping, metalworking, safety guards and laser cutting.
WORLDWIDE PRESENCE AND DEPLOYMENT
KEY FIGURES

kg of sheet metal processed
IN PICTURES

NEWS